🍁 happy november!! 🍁
it's very nearly December--!! 😮
& I've already gotten 90% of my Christmas shopping done, huehuehue ( •̀ .̫ •́ )✧
(a new week means a new photo of Dreamiscle! behold! ✨)
I've added a new page with the template & tutorial for the 'flying nun' hat I made for this year's Halloween costume! if you are in desperate need for a flying nun hat of your own (as we all do), click through here.
I hope you have fun looking around!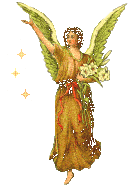 🎵 song of the week! 🎵


11/27/2023 — updated songs of the week!